Daftar Game Di Play Store Yang Bisa Kalian Mainkan Tanpa Harus Install Gamenya
Thuesday, Aug 9, 2019, 20:58:46
Buat Mogie yang mungkin belum tau, di Google Play Store itu sebenarnya ada cukup banyak Game yang gak harus kalian Intsall dulu buat nyobain Game-nya. loh kok bisa sich, gimana caranya? let's check it out!
---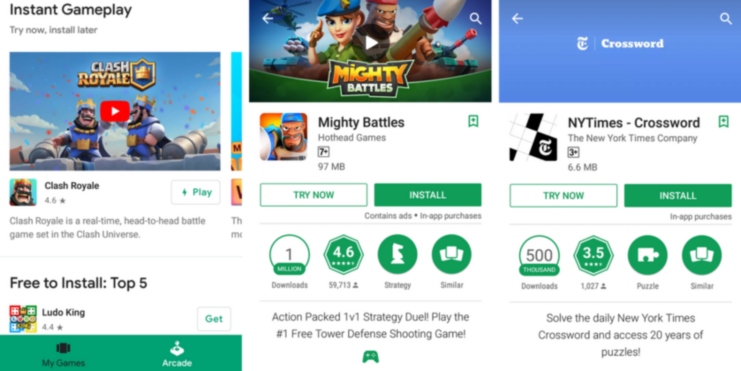 Daftar Game Di Play Store Yang Bisa Kalian Mainkan Tanpa Harus Install Gamenya / pict via kliknklik.com
MobaGenie.ID -
Pernah gak si Mogie install Game ampe 1 GB lebih cuman buat nyombain Gamenya bagus apa kagak? atau pernah gak si Mogie nyesel gara-gara udah Download ampe ber Giga-Giga, ternyata harus kecewa karena Game-nya tidak seperti yang kalian harapkan?
Nah, buat Mogie yang mungkin belum tau, di Google Play Store itu sebenarnya ada cukup banyak Game yang gak harus kalian Intsall dulu buat nyobain Game-nya. loh kok bisa sich, gimana caranya? melalui Fitur yang diluncurkan Google pada Tahun 2018 lalu yaitu Google Play Instant, pengguna Play Store sudah bisa mencoba suatu Game tanpa harus mendownloadnya terlebih dahulu.
Keuntungan
dari adanya fitur Google Play Instant adalah, kalian bisa nyobain semua game tanpa harus install dan ngabisin banyak quota cuman buat nyobain Gamenya bagus apa gak atau kalian suka apa gak. Pasalnya Goole sendiri emang ngebatasin fitur instan App ini sebesar 10 MB saja, jadi, tiap kalian nyobain satu Game, kalian cuman ngabisin maksimal 10 MB saja per game!
Kalian bisa membedakan mana Game yang suport
Google Play Instant
dan mana yang tidak dengan cara melihat di sebelah tombol Install, jikalau kalian melihat tombol
Try Now
, itu artinya Game bisa kalian mainkan tanpa harus install terlebih dahulu.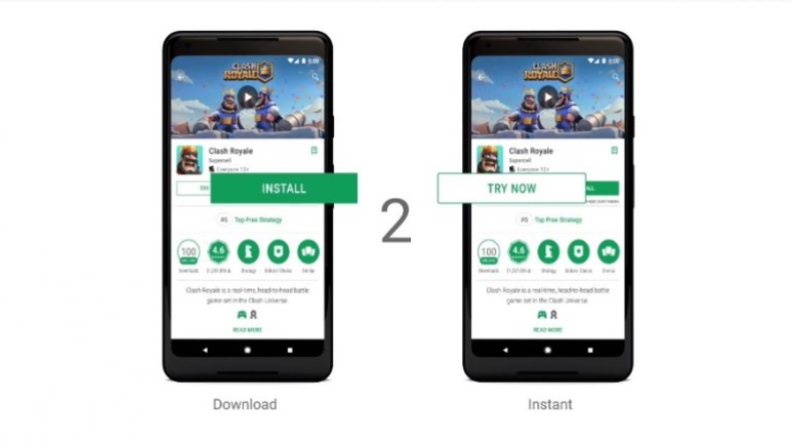 Contoh tampilan menu di Game yang suport Google Play Instant / pict via kliknklik.com
Sedang
kelmahan
dari fitur Google Play Instant kalian hanya bisa memainkan sebagian kecil dari gamenya saja. kalo kalian pengguna steam, pasti sudah tidak asing dengan versi DEMO, nah kurang lebihnya fitur ini adalah versi Demo nya Game di Play Store.
kelemahan
lainnya dari Google Play Instant yaitu
cuman mendukung Android versi Nougat
ke atas saja
, jadi kalau kalian buka Game yang suport fitur Google Play Instant tapi OS Android kalian masih dibawah Nougat, maka tombol Try Now tidak akan muncul di Play Store. dan juga tidak semua Game suport fitur ini, karena Fitur Try Now sendiri tergantung pihak developer menyediakannya apa tidak, bukan Google sendiri yang menyeiakannya.
ok, back to topik, berikut ini list Game yang suport Google Play Instant sampai pada tulisan ini di Publish di MobaGenie.ID, tangal 9 Agustus 2019.
NO
PICS
JUDUL/LINK DOWNLOAD
DESKRIPSI
1
The Mighty Quest for Epic Loot
Pure Hack and Slash: crawl dungeons & raid epic castles in this adventure RPG
2
Vineyard Valley: Match & Blast Puzzle Design Game
Match. Decorate. Restore. Blast Puzzles, Design Your Resort & Solve the Mystery!
3
Cookie Jam™ Match 3 Games & Free Puzzle Game
Play for Free! 🍪
4
Tap Tap Dash
World's hardest game.

Do you dare to challenge it?
5
Talking Tom Jetski 2
Jump on your jetski, beat your rivals, and explore a tropical paradise!
6
Microtrip
Simple and cheerful little physics-based arcade game
7
Caravan War: Tower Defense
A real multiplayer tower defense! Build epic army! Rush your kingdom to glory!
8
The Catapult: Clash with Pirates
Only for fans of the game "The Catapult"! Defend your castle from pirates!
Alpha Guns 2
Be a metal soldier, defeat enemies & epic bosses.
Adventures Story 2
Join our Hero on his epic Adventurous journey in this classic platformer 2D game
The Archers 2
🏹"The Archers 2" is a timekiller ☠️ based on stickman ragdoll physics 🔥
Crazy Defense Heroes: Tower Defense Strategy TD
Collectible Card Game meets Tower Defense! Test Your Strategy & Tactics!
Monster Defense King
Classic Defense Game
Garena Free Fire
10-minute Survival Shooter!
Crazy Kitchen: Match 3 Puzzles
Match yummy food for big points! Serve customers their favorite foods!
Seekers Notes®
Explore an enchanted city full of hidden secrets!
Shop Titans: Design & Trade
Design and build a thriving shop in this tycoon simulation adventure!
Extreme Balancer 3
Balance the ball over wooden bridges and reach the boat by escaping the traps.
Epic Heroes War: Shadow & Stickman - Fighting game
Epic RPG real-time strategy action game. Game of thrones & contest of Champions.
My Singing Monsters
Breed them. Feed them. Listen to them sing! Build a musical world.
Brain Dots
Drawing Puzzle Game
Power Rangers: Legacy Wars
Experience the Power and become part of the Legacy. It's Morphin Time!
Decurse – A New Magic Farming Game
Use magic and happiness to rebuild your dream island in this sparkly adventure!
Battle Heroes : Merge Idle Tycoon
The giant warriors attacked us.

Merge heroes to find a powerful hero we need.
Defender III
Kill monsters! Kill monsters! Repel the devil dragon and defend your castle!
Homicide Squad: Hidden Crimes
Put your detective skills to the test with this crime investigation game!
Animation Throwdown: The Most Epic Card Game
Collect your favorite cartoon cards & join the adventure in an epic battle game!
Chaos Battle League - PvP Action Game
Battle your opponents in this amazing battle royale!
Blob Connect - Match Game
Connect the dots and solve the level in this fun match game!
Fun Run 3 - Multiplayer Games
Race, play & beat your friends or other people in the funniest running game!
Empires & Puzzles: RPG Quest
Epic heroes, monsters and action await in this thrilling, tactical battle RPG!
Crime City Detective: Hidden Object Adventure
Run a criminal case investigation, search scenes for clues & solve hidden crimes
Jewel Games 2019 - Match 3 Jewels & Gems Crush
ADDICTIVE JEWEL GAMES 2019!

GREAT & NEW TIME PASSER!⏰

CHALLENGING & RELAXING!🚀
Guns of Boom - Online PvP Action
Team-based PvP action with super easy controls. Get ready for battle!
Toy Story Drop!
You've got a friend in match 3!
Crazy Dino Park
Discover the mysterious world of the dinosaurs!
Word Pizza - Word Games Puzzles
Find as many words as you can by putting the letters together!
FINAL FANTASY Record Keeper
RPG with heroes from across the history of FINAL FANTASY! Defend your legacy!
Dawn Break II -Light and Dark-
Fast pace skilled combat, ultimate test of Elements!
The War of Genesis: Battle of Antaria
A Unique Strategy MMORPG Experience Awaits in The War of Genesis!
Mobfish Hunter
All you need to do is KILL!
Frozen Pop - Frozen Games
Enjoy icy pop & bubble shooting in Frozen Pop!
Nitro Nation Drag & Drift
The Best Drag Racing Experience: Real Cars! No Fuel, No Energy!
Orbia: Tap and Relax
Test your skill in an exciting adventure, full of bizarre worlds!
Chigiri: Paper Puzzle
Combine the pieces how you imagine it.
Tap the Frog
Play the best collection of arcade mini-games ever! Jump in and get tapping!
ZEN - Block Puzzle
ZEN is a block puzzle game.

Easy rule but fun & relax!
My Talking Tom 2
The world's cutest pet is back! Take care of him in more ways than ever!
Cooking Craze: Crazy, Fast Restaurant Kitchen Game
Dash around the kitchen & serve great food in this fast and fun cooking game!
Empires and Allies
Play the epic PvP war strategy game!
Lost Island: Blast Adventure
Beat Blast levels, make new friends, renovate your island, and solve mysteries!
Pastry Pop Blast - Bubble Shooter
Shoot, match, and pop colorful bubbles in this fun free bubble shooter game.
Warlords of Aternum
Put your tactics to the test in an epic fantasy universe
The Catapult 2
Meet the second part of the popular game "The Catapult".
Family Guy- Another Freakin' Mobile Game
Match drinks to help your favorite Family Guy characters keep their buzz!
Genies & Gems - Jewel & Gem Matching Adventure
A magic match 3 game with 💍 Gems & Jewels 💍 Grab gold in a matching adventure!
The Walking Zombie: Dead City
Zombie shooter game with cartoon 3D graphics. Become deadly zombie killer!
Angry Birds Dream Blast
Play a fun and dreamy new puzzle game from the makers of Angry Birds!
Power Pop Bubbles
Pop & burst bubbles in this classic puzzle game. Beat challenges & win levels!
Trade Island
Create the island of your dreams! Start building and get rich!
Cross Stitch Sewing Patterns: Needlepoint Stitches
The Best Relaxing Game: Stitch Patterns & Upload Photos for Knitting & Stitching
Almost a Hero - Idle RPG Clicker
Winner of ⚠️ Best Mobile Game ⚠️ on reddit's Incremental Games community! 🙌
Catch Idle - Epic Clicker RPG
★ Google Featured idle RPG game in 2018 ★

Craft Equips and Upgrade Camp Mastery!
War and Magic
Fast Tactical Games, Easy to Play, Need Strategic Mind to Win.
Kick the Buddy
Relief stress with Kick the Buddy! Limitless arsenal to beat at your disposal!
WWE Champions 2019
Play the #1 Downloaded WWE game. Battle in new expanded PvP Showdowns and more.
Own Coffee Shop: Idle Game
It's never too latte to start your own coffee shop!
Kingdoms of Heckfire
Build kingdoms, lead dragons, armies & allies in this fun new MMO war strategy!
Darts Club: PvP Multiplayer
A PvP Multiplayer Darts Game With a Collectible Twist! Check It Out!
Robbery Bob 2: Double Trouble
The true king of thieves is back in business! Robbery Bob 2: Double Trouble.
Soccer Kicks (Football)
PURE PASSION. Experience the free-kick action of your favorite 3D soccer game.
WhamBam Warriors - Puzzle RPG
Get wild with WhamBam!

The battle of dimwits begins
Crossword out of the words
Make the words out of a set of letters and fill the crosswords.
World of Warships Blitz: Gunship Action War Game
Online 3D Multiplayer Navy Fleet Battle, War Strategy Simulator: PVP WW2 Shooter
Forge of Empires
Play strategy city simulation & build an empire through the ages of civilization
Puzzlerama - Lines, Dots, Blocks, Pipes & more!
The #1 free puzzle collection! Play top rated classic puzzle games!
Solitaire Tower
Solve the Solitaire puzzles and climb to the top of the tower!
Flip the Gun - Simulator Game
Shoot and make guns fly with Flip the Gun – ultra-realistic physics game!
MARVEL Strike Force
It's time to fight! Gather your squad and prepare for the battle to save Earth!
Rodeo Stampede: Sky Zoo Safari
Catch wild animals in the stampede to grow your Sky Zoo in this endless runner.
Doodle Alchemy
Doodle Alchemy is a game with amazing graphics and effects!
Tactical Monsters Rumble Arena -Tactics & Strategy
PLAY NOW AND GET 500 FREE GEMS!
Dice Clubs
Challenge your friends from all over the world!
Road Draw 2: Moto Race
Next generation of motor racing. Draw your roads and climb the hills

🛵〰️✍️
Galaxy Attack: Alien Shooter
Save the Galaxy from alien swarm attack
Road Draw: Climb Your Own Hills
Next Generation of hill racing games. Draw your roads and climb the hills

🏆🏆🏆
Impossible Nine: 2048 Puzzle
Impossible Nine: 2048 Puzzle is a very simple and addictive logical puzzle game
YAHTZEE® With Buddies Dice Game
Play dice in a fun board game! Discover a new multiplayer dice game with friends
Swim Out
Get out of the pool without touching any other swimmers
Space Shooter: Galaxy Attack
Save the galaxy from alien shooter in arcade shooting games.
Cookie Jam Blast™ New Match 3 Puzzle Saga Game
Satisfy your cravings for cookies & candy! Match & solve tasty match 3 puzzles!
Candy Crush Saga
🍭 The sweetest puzzle game! Switch, match & blast candies to win levels! 🍬
Burger
Want to be a master-chief?
Clash Royale
Clash Royale is a real-time, head-to-head battle game set in the Clash Universe.
Words With Friends 2 – Free Word Games & Puzzles
Word puzzle fans! Build words and have fun as you play the best word game ever!
Final Fantasy XV: A New Empire
Build. Defend. Rule. Join Alexis Ren in Final Fantasy XV: A New Empire!
Bubble Witch 3 Saga
A magical bubble shooter! Match, burst & blast your way through the puzzles!
Mighty Battles
Action Packed 1v1 Strategy Duel! Play the #1 Free Tower Defense Shooting Game!
Jeopardy! World Tour
America's Favorite Quiz Show® in the palm of your hand! Play for Free now!
---
TAG:
#Play Store
#APP Store
#Android Game
#Android
#Guide
#Google Play Instant
#Garena Free Fire
#Free Fire
#Clash Royale
#Game Mobile